By Sarah Malyan
It looks like 2019 is shaping up to be a great year for the sport of fighting robots! Given that 2018 gave the sport in the UK a good kicking – the BBC cancelling Robot Wars AGAIN, or the train wreck commentary of the Robot Wars broadcast in the US – the emergence of local events and new shows is undoubtedly welcome relief to UK roboteers and fans alike!
For many years one of the big drawbacks of the heavyweight live scene in the UK has been the absence of spinners. Whilst disappointing, when one looks at the cost of the polycarbonate alone for a spinner-friendly arena, one can understand why event organisers aren't keen to operate them. But Extreme Robots has taken the plunge, and this has certainly given the Heavyweight live scene in the UK a big boost. Extreme Robots is also working to revive the Middleweight class, which many roboteers consider to be a very underrated class. Middleweights come close to being as visually destructive as their heavyweight counterparts, but are much cheaper to run, easier to transport, and don't require an entire F1 pit crew to compete with. This weight class could not only welcome new fans to the sport, but new roboteers too.
Another drawback in the UK live scene has been a lack of events in the north of England and almost none in Scotland. But Ian Botwright and his son Alex – from the Robot Wars team Crackers & Smash – have come to the rescue and brought Robodojo events to the live scene! Based in Leeds, Robodojo has begun offering events in the ant, beetle, and featherweight classes, and have already proved a big hit with roboteers; particularly those in the north or in Scotland. It has made events for those north of Manchester a lot more accessible, whilst also providing a much-needed place to compete with featherweights. Until Robodojo started, the only full combat competition for featherweights for some years had been once a year at the August Insomnia Gaming Festival. Featherweights are allowed to compete at Heavyweight live events, but are usually relegated to filler rumbles and whiteboard fights. Robodojo events will be a big boost for the featherweight class, particularly for roboteers and fans in the north of the UK.
Robodojo have a Facebook page here: https://www.facebook.com/RobodojoUK/
Another boost to the live scene has been the birth of Bristol Bot Builders! (BBB)
Co-founded by Joe Brown, Craig Croucher, Chris Trudgen and Gareth Barnaby, BBB not only provides ant and beetleweight events, but also runs bot-building workshops too using their local HackSpace – which has proved tremendously popular with local people wanting to get involved in the sport and build. BBB runs full combat events for the beetle and antweight classes, as well as a number of more laid-back social events where games such as robot football, sumo, tag team or boss fights can be played. Joe Brown describes these social events as "bots in pubs."
You can find their Facebook page here: https://www.facebook.com/groups/BristolBotBuilders/
With the new season of King of Bots, and the constant teasers at a 4th season of Battlebots, the UK is not entirely deprived of televised robotic combat since the cancellation of Robot Wars. In fact, the cancellation from the BBC prompted more fan-made content in the UK than ever!
First came Antweight Anarchy, brought to you by Anthony Murney and Stephen McCulla of the Robot Wars 'Push to Exit' team. Using an arena Anthony built himself, along with a number of antweight replicas of bots from Robot Wars, the pair filmed a humorous fan-made competition with full commentary. They also produced a special competition where they invited fellow fighting robots YouTube creators to join them for a battle of the YouTube Stars. You can check it out on YouTube and Patreon.
Another show which spawned in light of the Robot Wars cancellation was the beetleweight series Bugglebots! Bugglebots was the brain child of BBB co-founder Joe Brown, BBB member Benjamin Hassan, and yours truly. A trio of volunteer event organisers, we pulled the community together to produce a Robot Wars style competition using beetleweight robots, and it has so far proved to be a huge success with both roboteers and fans of the sport. Filmed at Bristol UWE in September, Bugglebots began airing on the 17th December and has been airing weekly since. There are six episodes of the main competition – five heats and a grand final – and an additional bonus episode will be announced at a later date. The show features many roboteers whom fans of the sport will recognise; Tom Brewster of Tauron and Monsoon, John Denny of 13 Black, and Alex Mordue from Firestorm to name a few. In addition, several roboteers who were new to the sport were also invited to compete. Bugglebots wanted to have a diverse competition featuring veterans, newbies, and everything in between. This has certainly showed in the final production. Many roboteers have praised the show for being fun, well-organised, and a great boost to the beetleweight class and the sport in general.
The cast of Bugglebots also contains a number of people who fans of the sport will recognise; making up the judging panel was Anita van der Meer of the Dutch Robot Girls team who competed on Robot Wars with TMHWK, the aforementioned Ian Botwright, and also Kane Aston, who competes with veteran team Behemoth from Robot Wars, as well as being the head of the Fighting Robots Association (FRA). The two referees are also former Robot Wars competitors; Shane Lale from Meggamouse and Tim Rackley from Concussion. Many fans will also recognise Tim from Battlebots where he and Tom Brewster competed with MONSOOOOOOOOOON.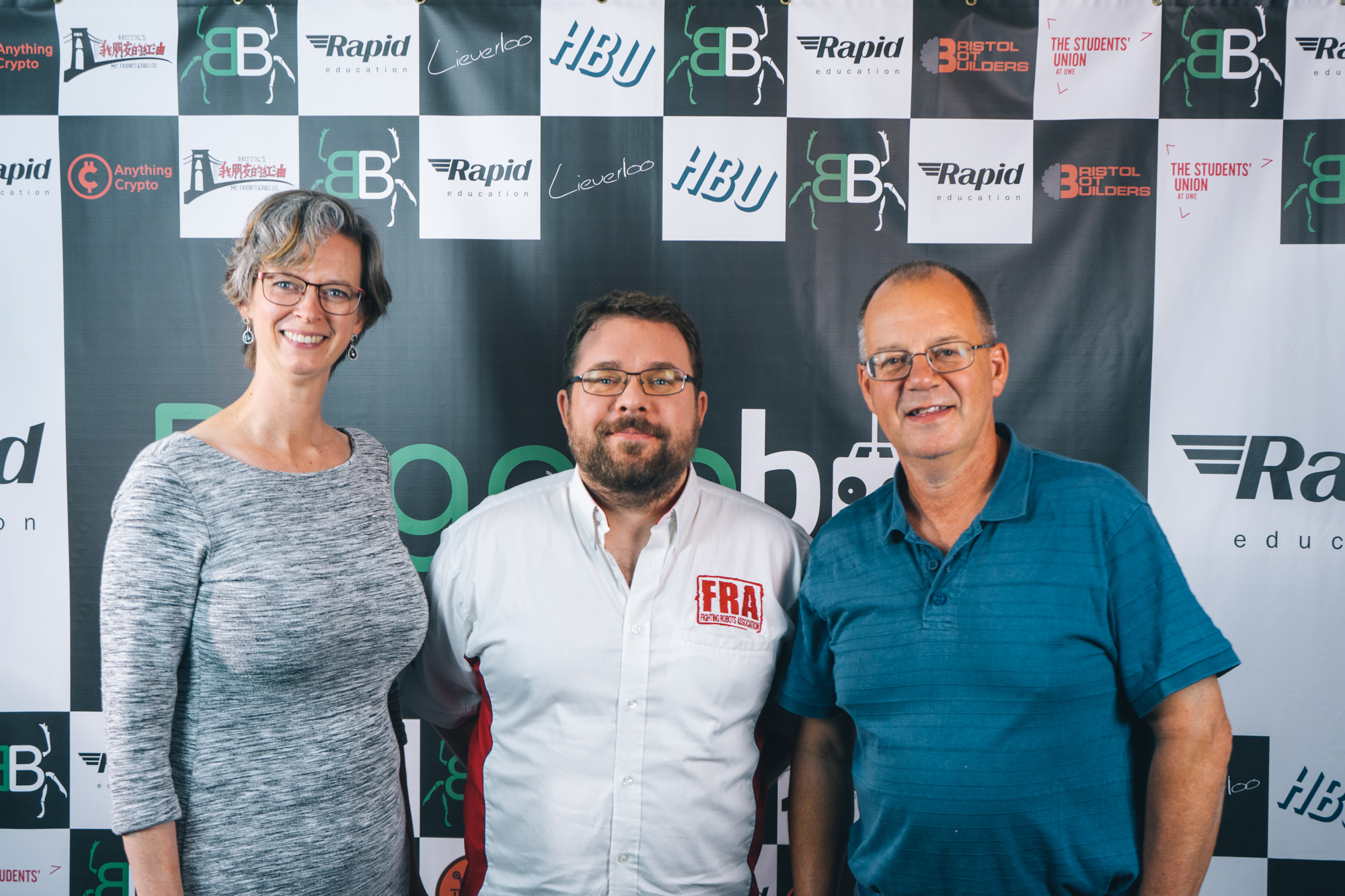 Left to right: Anita van der Meer, Kane Aston, Ian Botwright
Visit http://www.bugglebots.com for more information, and go to @Bugglebots on YouTube to watch the show!
Prior to Bristol Bot Builders, Bugglebots, and Robodojo, the beetleweight scene in the UK had been declining. The Beetle Belt competition was no longer able to run at Robots Live events, and Kinematic Events announced that the 2018 Beetleweight Euros would be its' last competition. Fortunately, the organisers at Kinematic Events were not prepared to let their Beetle arena go to waste, and Shane Lale was keen to start doing events of his own. Shane has taken over the arena, upgraded and repainted it, and begun Techno Events.
Shane kindly donated the upgraded arena to Bugglebots, making the show its' first outing under the Techno Events banner. The Euros will continue to run under Techno Events, and Shane hopes to bring more beetleweight live events to the UK scene in the future.
It's safe to say that the sport is off to a good start for the UK in 2019! With events of all weight classes popping up all over the country, the sport is sure to see a boost in popularity, and hopefully, attract more competitors, bringing fresh creativity to the sport.
Fans can of course help the scene too by promoting events, particularly on social media!
The current best resources for events are www.robotcombatevents.com
or check the Events Calendar on the Facebook group
"Robot Wars Shuntposting" here: https://www.facebook.com/groups/685180975014482/
You can also check out the individual Event Organisers' facebook pages for full details of their events.